More than a hostel in Agaete center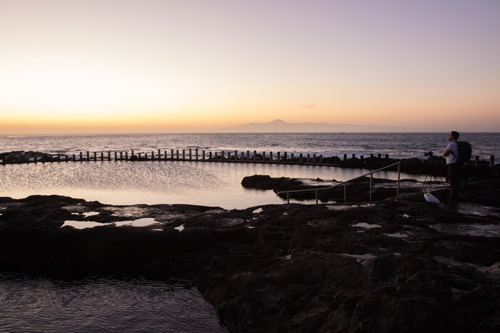 Agaete is located between sea and mountains. We live in a privileged place in Gran Canaria, in a white town, located in the northwest of the island, Casa Calma is an accommodation that is totally central. From our terrace you can see the Tamadaba natural park and you can do yoga outdoors while the sun sets or rises over the horizon.
Agaete is a quiet town at the foot of the Tamadaba Natural Park. It is a little crowded town at a tourist level and maintains its local charm. It is a wonderful place to be on vacation for a few days, even weeks. Casa Calma is located in the center of the old town, where you can find on foot the vast majority of touristic spots. Here you will feel at home because Casa Calma is more than a hostel, it is a home.
Agaete consists of several neighborhoods that can be visited on foot, such as El Puerto de las Nieves, where the natural pools Las Salinas and the beaches are located. You can also visit Huerto de las Flores, a small paradise where we recommend taking a book with you to spend a relaxed afternoon. The town itself deserves a quiet stroll. Ask us at reception and we will recommend everything you can do in this magical spot where many travelers have already decided to spend time, making this place their base to visit all of Gran Canaria during their holidays and also enjoying the best climates of the island, since in Agaete you can enjoy many sunny days and blue skies. You can go to the beach all year round.
 From here you can visit many nearby places, among them Agaete Valley, a secret hidden on the island of Gran Canaria that you cannot miss; not only for the impressive views but also for the farms where coffee is grown, unique in Europe. It is a place dotted with papayeros, avocados and mangoes, palms and tabaibas. We think you won't see a more inspiring green color palette...
¿Where are we and how to reach us?

¿How to get here?
If you come by bus from Las Palmas de Gran Canaria, you can get the bus 103 which leaves San Telmo bus station.
If you come by car from Las Palmas de Gran Canaria you just need to take GC2 until Agaete and park the car in the center or the town, around the church or goint to the port in a free parking area.
If you come from the airport, you should get the bus that takes you to San Telmo Station and then get 103 bus there and step out in the main square.